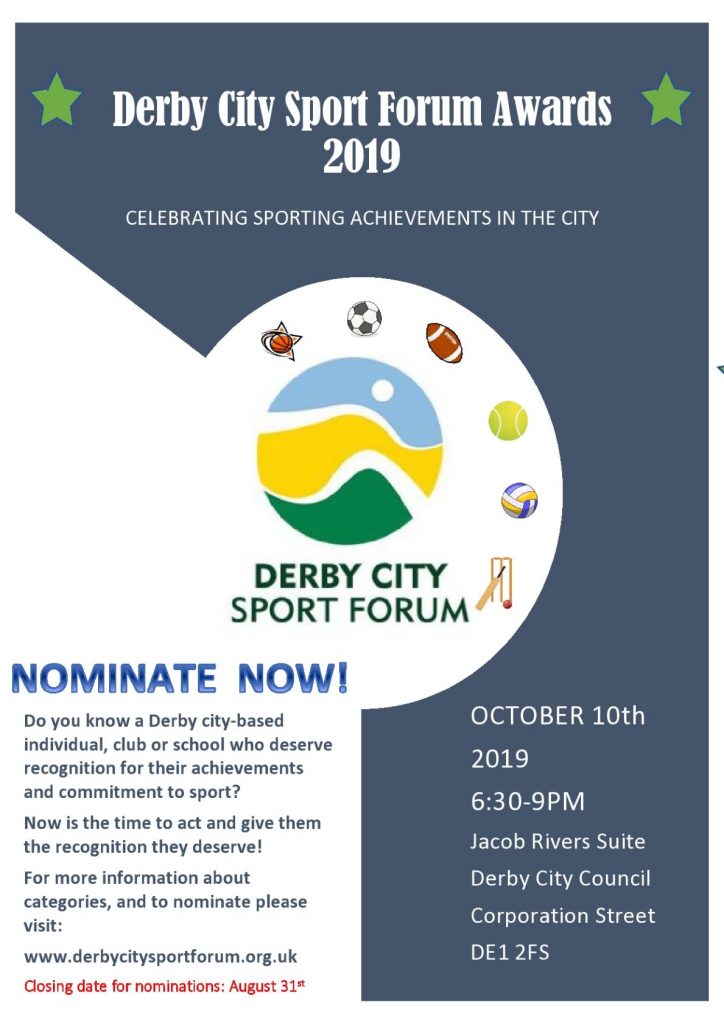 The deadline for nominations for the 2019 Derby City Sport Forum Awards has been extended because of the holiday season.

We are aware lots of people have been away this month so we are giving everyone a week extra to get their nominations in. The deadline is now midnight on Saturday 7th September.
Nominations have been steady but a couple of clubs have been in touch to say their people are away and would nominate, so the committee decided to extend the deadline for all those in that boat.
Awards are given annually in recognition of the achievements of Derby's dedicated sports people. They will take place on Thursday 10th October in the Jacob Rivers Room of the Council House. It's a great opportunity to celebrate the sporting achievements in Derby, please nominate anyone you think is worthy of an award this year. You'll need to move fast as nominations close on 31st August 2019!
To nominate please click on the link
The categories for the 2019 Awards are:
Junior Sportsman of the Year (U18s)
Junior Sportswoman of the Year (U18s)
Junior Disabled Sportsperson of the Year (U18s)
Sportswoman of the Year (18+)
Sportsman of the Year (18+)
Disabled Sportsperson of the Year (18+)
Club of the Year
Junior Team of the Year (U18s)
Team of the Year (18+)
Community Coach of the Year
Young Sports Leader/Coach of the Year (U18s)
Lifetime Service to Sport Award
Full criteria for each award can be found below: