Congratulations to Sport Forum members Rolls Royce Rugby Club, who have reached the finals of the Guinness National Rugby Awards in the "Facility Development of the Year" category.
They beat off hundreds of nominations after an ambitious renovation of the Rolls-Royce Rugby clubhouse in the summer of 2018.
Funding for the upgrade of the facility, which had become tired and in need of work according to the club, was secured through an award from the Rolls Royce Leisure Association President's Award Club and an RFU grant.
Chief Architect and Club Vice-Chairman Tim Smith created an ambitious blueprint to reinvigorate the club room, and the plan swung into action!
Numerous volunteers from the club spent a weekend clearing the clutter from the room, plaster-boarding the walls, repairing a defunct dividing wall and constructing a bar-on-wheels.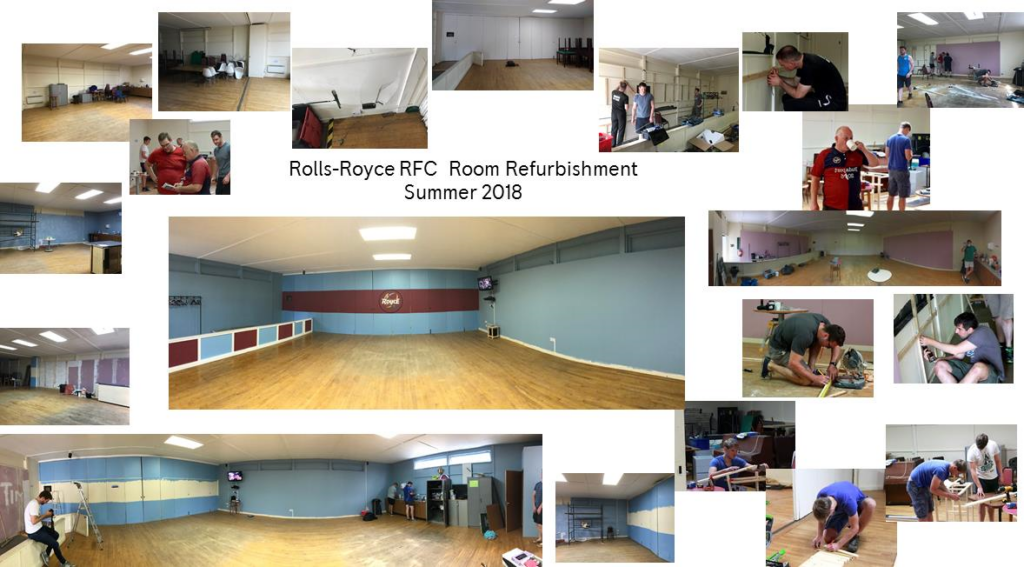 Engineering challenges
Various challenges were overcome, such as the walls being uneven, meaning wooden shims were needed to create a level surface to attach the plasterboard to. Club members gave up many evenings to paint the walls in club colours, including a logo on a sliding wall, and finish constructing the bar.
The Rolls-Royce Leisure Association, appreciative of the hard work, helped out with some high-quality painting of remaining areas. To maximise rugby enjoyment a TV and ceiling mounted projector has been installed, together with a surround sound system and high bandwidth Wi-Fi.
Club memorabilia now hangs on the plasterboard enhanced walls, and the club can now welcome visiting teams into a club room of which Rolls-Royce RFC can be proud.
From everyone at the Sport Forum, we wish the club every success with and good luck in the awards which are being held at Twickenham Stadium on 29th August. Creating this fantastic new facility was truly a team effort!
Fancy getting involved?
If you're interested in trying rugby for the first time or want to return to rugby after a long period away, the club runs touch rugby sessions on Mondays from 5pm to 6pm and regular club training is on Tuesdays from 6pm to 7:30pm. All ages and levels of ability are catered for, for more information visit their website or email RollsRoyceRFC@outlook.com.