The forum is part of a £1m Government initiative to help boost essential life skills for thousands of children and young people in parts of Derby .
The forum is one of the partners in a successful bid led by Derby County Community Trust which also includes Derby Cultural Education Partnership.
The money is being spent in nine wards of the city where the Department for Education thinks the youngsters are lagging behind because of higher deprivation in those areas and also city-wide for youngsters with disabilities.
The idea is to boost their social and communications skills, including teamwork, so that they have better chances of success when they leave school and enter the world of work or higher education.
This is being done through a series of projects involving sport, music, dance, culture and the arts to get them to broaden their horizons. Various bodies, including charities, have come together to use their skills and experience to offer activities which the youngsters will have decide on.
The project has already been launched through a series of roadshows with performers and artists joining activities including sports and art workshops.
Many of the other partners, unlike the forum, have paid staff who can devote time to organising the projects, so in recognition of this funding has been approved for a part-time Sport Forum project officer to organise sports projects and to help the forum with its work. This is the first time that the forum has had a paid employee.
The successful applicant, who beat a strong field of candidates, is Andy Moore, an experienced sports journalist, who is also media director of Derby County Ladies Football Club, and has transformed their profile into the fastest growing in the region.
Outside his journalism Andy is an experienced foster carer working for working for an independent agency and with wife Laura has looked after more than 20 children since 2011, currently looking after four youngsters. They have helped to recruit numerous foster carers into the region .
"I am delighted to join the Derby City Sport Forum and look forward to working on the Essential Life Skills project bringing sport to children across the Hub areas identified by the project and beyond," said Andy.
"Sport is a passion of mine and I have learnt many valuable skills from the many groups I have attended since a young age and feel that sport is an excellent tool to encourage participation, teamwork and new skills that can help improve social mobility to children from all areas.
"As foster carers Laura and I have used Sports Clubs to encourage children in our care to take part and learn new skills and we have seen the impact  activities can have on children, whether that is through sports or the arts.
I'm  looking forward to passing on my knowledge and ensuring that sport can continue to open up access to children of all ages and give them opportunities that will give them life skills that will help shape their futures.
"I am excited about the Project Officer role and look forward to ensuring that the Forum continues to go from strength to strength."
Forum chair Ian Cotter said: "I am pleased that the forum has been invited to join in this in this partnership of organisations trying to improve the lives of children and young people in the city.
"I am delighted that we have managed to secure the services of Andy Moore to help put together projects to take to those youngsters and that he will be able to work with the forum to grow contact with clubs to make its voice louder in promoting sport, sporting opportunities and facilities for all."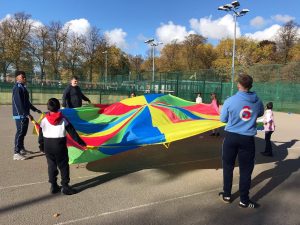 Sporting Communities CIC with children at a roadshow promoting the Essential Life Skills programme in the city.
Hardly had the website been set up when there were changes prompted by the This is Derby project under the auspices of Derby County Community Trust.
Because of other commitments Andy will now work one day a week as forum secretary and we welcome Rayan Sammut as the project officer helping youngsters across the city develop life skills in conjunction with arts and cultural organisations under the DCCT umbrella.
Rayan, who currently works part-time for British Orienteering at Tansley, Matlock, has qualifications from Malta and Hungary as well as a masters degree in sport science from Loughborough University.
She has worked in Malta as well as this country in a number of positions in education and gymnastics involving young people and for five years was England coaching manager for British Canoeing delivering a coaching strategy and managing a programme of events.
She recently returned to the UK after a career break in France where she did voluntary roles connected with sport and is keen to use her various experiences to help develop sport in the community.
Forum chair Ian Cotter said: "The changes were brought about by circumstances beyond our control. But we are pleased to have two experienced people helping the forum and the project across the city encouraging youngsters to get involved in sport and boost their essential life skills"