A new fund is being set up by Derby City Sport Forum that will help youngsters gain access to sporting opportunities.
Two leading lights of the Forum are putting their best feet forward to raise money to start off the new Derby City Sport Forum Community Fund.
Sport Forum project officer Helen Britten will join thousands of others when she runs in the city's biggest race, the Derby 10k, organised by Derby County Community Trust, on Sunday March 29 and is seeking sponsorship which will go towards the new Community Fund.
"I'm sticking to a rigid training plan through rain or shine," said Helen. "So far it's going to plan, so fingers crossed, I'll be ready for the big day."
Forum treasurer Bob Thorne (71) has opted for a slightly different version – he is walking 10 kilometres and has already exceeded his original target of raising £50 after receiving funding from colleagues at the walking football group he attends at Willow Sports Centre.
The idea of the new fund is to give children and young people an opportunity to take part in or attend sporting activities that they might not normally have the chance to do. Full details will be revealed later.
Forum chair Ian Cotter said: "I'm delighted that the Forum is able to take this progressive step in helping children and young people to see and enjoy the benefits of sport. I hope that family and friends will support Helen and Bob in their efforts."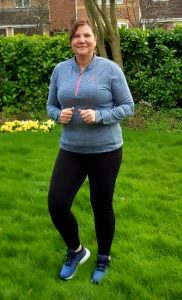 Bob Thorne and his walking football team at Willows Sports Centre