Blake Bowman wins National MVP Award.
The 2019/20 Elite Academy Basketball League MVPs have now been announced, with Derby's Blake Bowman receiving the league's most prestigious award. The Elite Academy Basketball League hosts the best 15 basketball academy's in the nation for players under 19. Trailblazers program is partnered with Derby College, with aspiring basketball players getting daily training and competition alongside completing their education at the college.
Bowman was in a tight race with Charnwood's Blaize Sagna, but eventually did enough to secure the votes required to seal the nationwide MVP award.
Ranked 2nd in efficiency, with a rating of 28.1, Bowman led all players this year with 27.6 points per contest, whilst also grabbing 8.9 rebounds per game (EABL 8th best).
Bowman's efforts couldn't lift the Trailblazers into the EABL post season, missing out on the buzzer of the final game of the regular season to champions Myerscough, but Derby's offence ranked 4th best in the nation with 88.6ppg as the team went 8-6.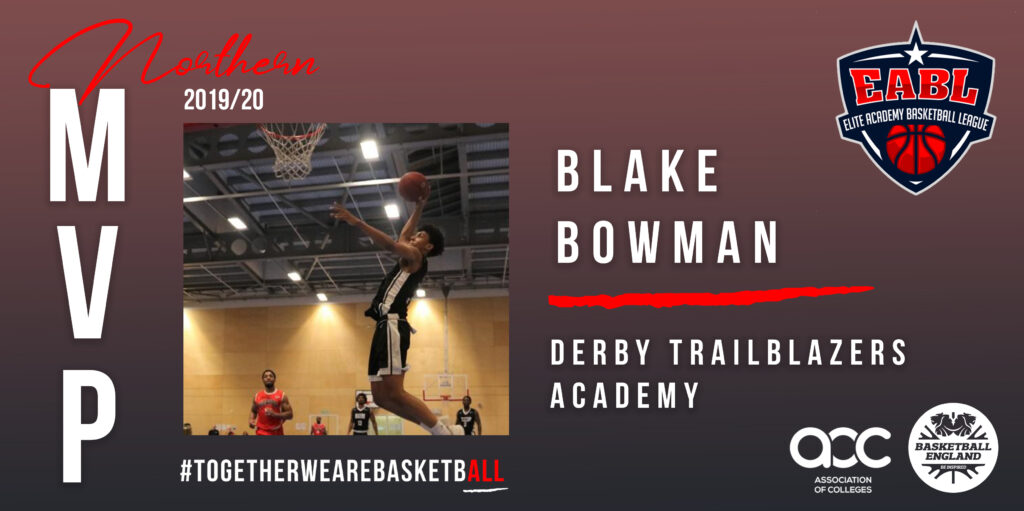 "Winning this award means so much. It represents the hard work that I've not only put in myself, but also my coaches who worked with me throughout the summer and the season and allowed me to have the opportunity to do what i did this season," said Bowman when discussing the award.
"Having the upmost trust from my teammates and coaches only makes it easier to perform week in, week out. It is also made much easier playing with this season's leader in assists, Charlie Brown, as my point guard!
"Being a product of the Derby Trailblazers has meant I've had loads of different coaches help me, so I'd like to thank all of them. Its been a great environment for me to get better as I've been pushed to play at a higher level, I've played NBL D1M for the last two seasons which has also forced me to improve quickly."
Derby head coach Matt Shaw added: "Blake put in the hours during the off season and made great strides, particularly with his perimeter game. It's been great to see those improvements in EABL action this year, he's put in some great performances.
"Blake is a joy to coach, one thing that separates him from others is his competitiveness in all situations, he just wants to win at everything.
"If he keeps working like he does, he's got a very bright future."